Case study: College transforms SEND learning with interactive assistive tech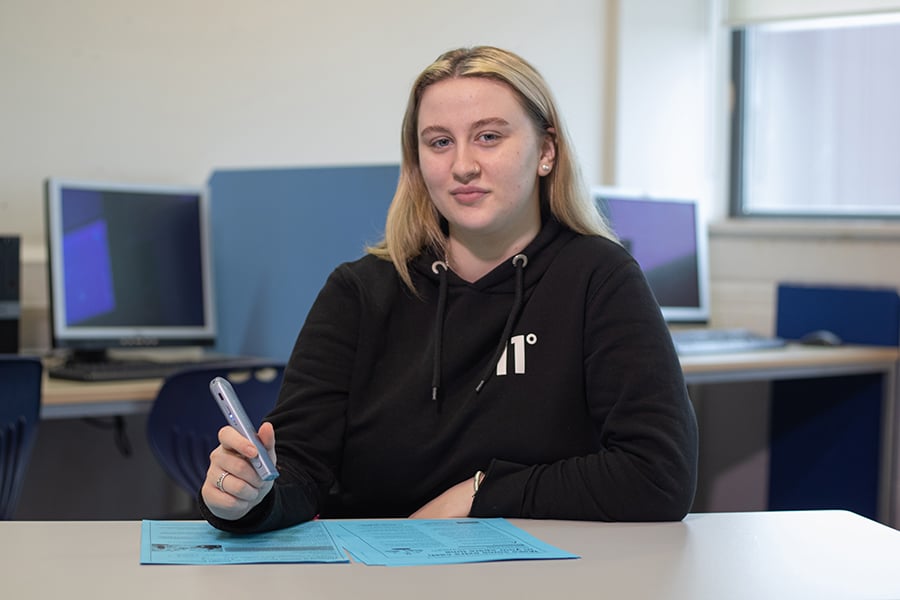 Oldham College, a further education college based in Greater Manchester, has transformed its teaching through the use of assistive technology to transform their studies.
Students have access to OrCam Learn, a new and interactive assistive technology learning solution.
OrCam Learn empowers students with learning difficulties – including dyslexia – to effectively read and learn, resulting in enhanced comprehension, reading fluency, and improved confidence in an education setting.
It is a wireless, pen-sized, handheld device, with an intuitive point-and-click operation that "captures" and immediately reads out loud a full page, paragraph, or single word of text – from any surface such as books, digital screens, or handouts.
Lauryn Fleming, a 19-year-old student at Oldham College, is dyslexic and she has struggled throughout her school years, often feeling overlooked by her teachers and embarrassed of finding difficulties in understanding words.
Since studying an Advanced Apprenticeship in Hair and Beauty and with the help of the college's assistive technology department with the OrCam Learn to support her learning, Lauryn has passed her Level 2 English exam. Lauryn now has the support she needs from the college to attain her future career goals.
Lauryn commented: "The College has provided me with such incredible support in my studies, something I've never had until now. The OrCam Learn has given me new independence and confidence in my learning and I don't need to rely on a human reader for my assessments or classwork."
OrCam Learn also provides reporting and analytics on a student's progress for their tutors to review.
Faye McLaughlin, an assistive technologist at Oldham College, said: "The OrCam Learn is really easy to use and Lauryn took to it straight way. She sat her reading, functional skills, and writing exams, and passed them all. That was a great relief for her as she wouldn't have been able to achieve a full apprenticeship without it.
"Our students have been completely blown away by the OrCam Learn's ability to read text back to them. We're now recognising that assistive technology is also having a huge impact on reducing anxieties for our learners, especially during exams."
In addition, the assistive technology comes with a reading pace feature. The device will match the student's desired pace of reading and can also be paused between words to allow the user to get the most out of the text. It can further be used within examination settings by activating 'Exam Mode' that ensures there is no possibility of any Wi-Fi, cloud or Bluetooth connectivity.
Oldham College is also using the OrCam Learn's Reading Pal feature, giving its students the ability to practise reading fluency by reading text to the OrCam Learn, and then receiving live positive feedback and reporting via a companion app or web platform. The student's tutor is provided with a full breakdown on how well the learner is performing with their reading.